Hello! Today marks my return to blogging, hopefully for good this time! I miss writing (for fun, not for school), and I have so many time consuming and non-creative things going on in my life that I feel I will really benefit from this artistic outlet!
I'm beginning this blog on June 1st for two reasons.
1) June 1 marks my one-year anniversary of going gluten-free. I was diagnosed with Celiac Disease in May of 2010. After sitting down on May 31st and eating an entire loaf of freshly baked french bread (I may or may not have wept openly) I cut out wheat, barley, rye, etc. for good! It was an excellent decision for so many reasons, which I plan on covering in a later post.
And reason 2):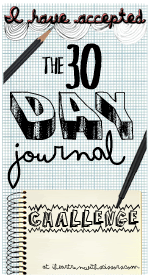 I did this last year and it was a lot of fun, though I started late, couldn't catch up, and punked out halfway. This time, however, I am prepared! For more details, check out:
http://www.iheartrunwithscissors.com/2011/05/2nd-annual-30-day-journal-challenge.html
I'm super excited to incorporate a little art into my daily routine!
I'll be posting more background on myself a bit later. For now, let me list a few things that I plan on talking about regularly here:
- My neverending quest to find and embrace the things I love. I've spent most of my life not really having a passion for anything, and my mid-twenties have been an awakening for me (quarter-life crisis, anyone?). I love art, making food, running, physical activity of any sort, being outside, reading, traveling, trying new things... These are all things I hope to share and explore here in the bloggerverse :)
- Celiac disease, and the intricacies of gluten-free living. There are a vast array of excellent blogs and resources out there these days that deal with the issues of gluten-intolerance, Celiac sprue, food allergies and so on. I don't seek redundancy, but I would like to share my own experiences and hear from others as well. My own experience with the disease has been quite different from the standard medical definition, and I know I'm not alone in that.
- Journal pictures, and miscellaneous art projects. While this journal challenge is going on I will be posting my entries here, probably a couple times a week. I love creating, making things, but I find that I don't really have the time or opportunity to use that energy productively. I have a very non-creative job and a pile of schoolwork due at any given moment. I am the CFO of our little household. I've decided to make my health and fitness priority #1 at the moment, so I spend a lot of time cooking and at the gym. All good things, but sometimes, I desperately miss the sense of peaceful solitude and existential bliss that comes to me when I sit in a patch of sun and make pictures all afternoon. I want to get back to that. And now that I've declared it publicly, I must do it! (Blogs are great for accountability).
So, here's to being able to stick with this little project and turn it into something meaningful. I hope everyone is having a great day!